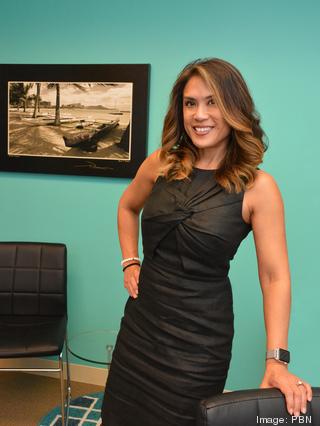 The Chamber of Commerce Hawaii was named state chamber of the year in its first-ever entry in the Association of Chamber of Commerce Executives' Chamber of the Year competition.
"When they announced the winner, Lori and I were stunned," Chamber of Commerce Hawaii President and CEO Sherry Menor-McNamara told Pacific Business News.
Menor-McNamara and Lori Abe, the chamber's chief of operations communications, attended the 2018 ACCE Annual Convention in Des Moines, Iowa, on Thursday where they learned they had won.
"The winner had to give a 30-second acceptance speech, but we were not prepared for it," Menor-McNamara said. "However, on stage, we took the opportunity to promote Hawaii, and we were proud to represent our state."
The award recognizes the leadership role chambers have in their communities, and Menor-McNamara said submissions included an extensive two-step written application process.
"Applicants had to pass each round to get to the next before becoming a finalist," she added. "Finalists then went through a 45 minute in-person interview at the conference, which accounted for two thirds of the final scoring."
Organizations applying for the competition must meet minimum thresholds in at least three of five key performance areas, including net revenue and assets, membership account retention and membership dollar retention.
"We believe Hawaii stood out because of our initiatives that involve partnerships and alliances to address challenges and opportunities in a collaborative and meaningful way," Menor-McNamara said. "We also shared information about our advocacy efforts with our Neighbor Island chambers, trade associations and the Legislature."
Menor-McNamara said the Hawaii chamber highlighted its partnerships with the University of Hawaii, the Hawaii Technology Development Corp., Innovate Hawaii, as well as its work with U.S. Sen. Mazie Hirono, D-Hawaii, for the Hawaii on the Hill event, which she believes contributed to the recognition.
"The award is a testament to the support of our membership, board and team," she added. "It shows that when businesses believe in the Chamber's mission, we can do great things together."
Link to article: Chamber of the Year